"The church needs to take its position as the least anxious place in society." Phil Strout, Vineyard USA
As tragedy and violence seemingly become more commonplace, the local church can and should help their congregations and communities process and respond to current events.
Artists are specially positioned to assist in that. The arts can help us process emotions, facilitate healing, help us pray or intercede, unite us, or lead us into worship.
Could the arts become a go-to means to help congregations to deal with current events, such as tragic violence?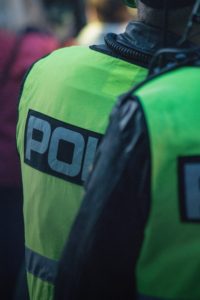 In The Substance of Things Seen: Art, Faith, and Christian Community, Robin Jensen identifies how the arts can benefit the church: "Art…for the church, must be vital and dynamic, relevant to the lives we now live."
Indeed, that type of art—vital, dynamic, relevant—created by artists in our congregations, could have great benefit in helping us process current events.  An earth quake in Asia, another instance of tragic violence close to home–or even good things like a peace talk, or breakthrough in disease control—considered and interpreted through the eyes of Christ-following artists ignite hope, or help us empathize or intercede or feel appropriately.
What if our churches designated an artist or group of artists to be creative responders to current events; trusted makers who are prepared to collaborate creatively with God and help the congregation express his heart for people and situations in turmoil?
Here are 5 forms that might take (not in order of importance):
Music. A musician might create a simple refrain that could be reverently sung by the congregation as a prayer. It might be  repeated each time the congregation gathers, for a time.
Dance. What if, during a service, spirit-led dancers created a quick, possibly even spontaneous dance that expressed the grief and helplessness of a (God, forbid!) school shooting. Leaders might preface it by inviting the congregation to join in intercession for the situation as they watched. Or another time they might express the joy of a long-hoped for peace negotiation.
Live painting. A painter might create a live piece during musical worship that expresses a God-inspired response to events in lines, shades, and color. He might be highlighted at the beginning of the service, with a note about what he is attempting to express, or he might explain its meaning at an appropriate point later in the service.
In the gallery. A church with a gallery might provide a special space or a mini-gallery that is open for visual artist's to submit their responses to current events. This might be coupled with a creatively designed wall section where the congregation is invited to write down their prayers and thoughts and post them on the wall.
Poetry. A poet might ask God to give her flowing words for the situation, then deliver them as the worship team plays lightly in the background. Or she might provide them to be posted on or in the bulletin.
These are 5 simple ideas for artists to help their congregations process current events inside the church. Next, we'll share 5 ideas for creative ministry during these times outside the church.
The New Renaissance is working on a new resource for arts ministry in troubled times: the CreativeChurch Disaster and Crisis Ministry Handbook: Responding to Tragedies and Current Events through Arts Ministry. Subscribe here to receive updates and info.
CreativeChurch Arts Ideas is the official blog of the New Renaissance Arts Movement.