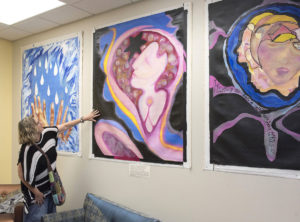 Many churches host addiction recovery programs such as Celebrate Recovery that help redeem precious lives that have been affected by addictions and, as CR says, "hurts, habits, and hang-ups."  The arts offers a number of ways to assist in the recovery process, including helping those who are recovering to express what is going on inside through their hands. Making art (including music) can be an outlet that helps the recovering person center, connect with God, and relax. And viewing or listening to that art can help the non-addict empathize with and better understand the recovering artist.
September is National Recovery Month.
Your church or arts ministry might consider facilitating art-making sessions or classes for the local recovery group.  If the situation is right and the artists are ready, you might even consider showing some of that work in a gallery show at the church. It could be a step toward bringing healing and affirmation for recovering persons while helping the congregation connect with and support their recovering brothers and sisters.
Here is a news story of a group that sponsored an art show like this in Maryland, and some resources for using the creative arts in recovery.