Drive-Thru Church? You mean, "Would you like a prayer and fries with that?"
Not exactly.
With most states under "stay at home" orders, people are only allowed to make essential trips, like to the grocery store.
Could it be possible to offer
an in-person (non-digital) church connection as they enter or leave the store?
Yes, with permission from the local grocery, it may be possible to maintain social distancing, take sanitation precautions, and offer ministry from your church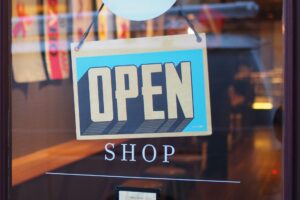 outside of the local grocery with a Drive-Thru church station. If people can't physically come to church, maybe we can bring an in-person church experience to them.
How it Works
After you get permission from the grocer you'll create a station that allows you to talk to and minister to people from a grocery store sidewalk or parking lot. Of course, you'll need barriers that create a minimum of 6ft between you and the people visiting you, whether they are in their car or walking up.
You might offer them prayer, a blessing, a quick devotional, or a song. You can even go communion if you are able to serve it in sealed kits.
You'll want to create signage, so it is clear what you are doing, and possibly marked lanes to direct drivers on where to go.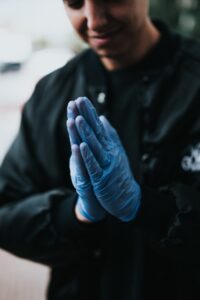 Details
Barriers

It will likely be easier to create an actual barrier with stanchions and rope than marking a barrier on the ground.
You'll want to place tables between you and the people who visit, behind the stanchions and ropes. For instance, if you set up on the grocery sidewalk, you might have a table between you and the curb for drive-ups and one on the side perpendicular to the grocery door for walk-ups. The stanchions and ropes would be outside the tables, guaranteeing the required separation.

Communion

You might serve communion in sealed kits by sliding them to the edge of the table for each guest, then pulling back while they

Photo: Marjanblan, Unsplash

retrieve them. You'll want to sanitize the table between each guest. Sanitize the communion kits beforehand and keep them in sealed Tupperware. Of course, use gloves at all times.

Music

If you can maintain the recommended distance, you might include a worship leader. Have them bring a guitar to sing worship and play softly while you minister. If not, a Bluetooth speaker with soft instrumental music playing will create a welcoming atmosphere.

Shelter may be needed, so you might look at an inexpensive canopy gazebo. But make sure to weigh the legs down properly!
Even without fries, a Drive-Thru or walk-up church station like this could be a wonderful outreach to bring hope, connection, and a little bit of church to your community.
Contribute your Creative Church Arts Ideas and projects HERE.
CreativeChurchArtsIdeas.org is the official blog of New Renaissance Arts Movement, a non-profit organization through ACT Intl.
If you find this website helpful please consider donating to our ongoing efforts of promoting and resourcing creativity and arts ministry in the local church.