Some churches are turning to Drive-In Sunday services during the Covid-19 crisis.
(UPDATE: See the update below for details on acquiring an FM Transmitter.)
When Rev. Sara Lamb's husband suggested trying Drive-In church service at their church, she was skeptical. How would it work, and would anyone come? Now, through research and trial and error, "driving-in" has become an enjoyable way of gathering for the congregation of Wayside United Methodist Church in Vienna, WV.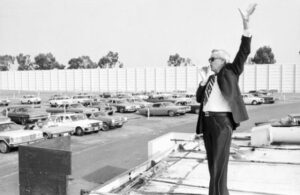 Background
Drive-In church services were pioneered by Evangelist Robert Schuller in the 1950s. And, of course, his slogan: "Come as you are in the family car." Since then Drive-In church has mostly been a novelty used occasionally in the warmer months. But with extended social distancing Drive-In services are gaining consideration as another way for congregations to gather. Of course, the biggest obstacle is whether your state or community will allow such a gathering. West Virginia, for instance, has a "stay at home" order in place but allows socially distanced church meetings.
How it Works

Here's a look the instructions Rev. Lamb sent to her congregation: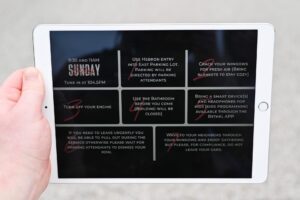 Drive-in Worship at Wayside
Please tune your car radio to 89.9 FM
Sunday at 10:00 am in the parking lot of Wayside United Methodist Church
Wear your comfy clothes (no one will know if you show up in your pajamas!), bring your favorite snacks, and settle in for worship. Here are the instructions:
Windows up – windows should be rolled up for the entire service.
2. Do not leave your cars – No one is allowed to leave their cars before, during, or after the service. (Some churches do allow people to use the building restroom.)
3. Parking- Please park in the spaces in the parking lot with your vehicle facing the entrance to The Crossing. This means that those parking in the front row will need to back in their spaces. If you drive a large vehicle, please do not park in the first two rows.                                                                                                               4. Bulletins – Because of updated safety concerns, there will be no printed bulletins available at this time. If you have an NRSV translation of the Bible, please bring it. Our call to worship will be from the Psalms. I will place the words for our hymns on Facebook as well as email those out as possible. We will

At worshiper at Bethel Evansville's Drive-In service. Photo: Bethel Church

focus on older (public domain) hymns at this time. Our time of prayer will allow you to lift up names and concerns as we pray. If you would like to share names and concerns with me before worship, please message me on Facebook or send an email.
5. Offerings- Offerings can be placed in the bucket as you leave worship, or they can be mailed to the church, dropped in the mailbox outside the church, or you can give online. (Of course, your church may want to eliminate all contact giving and help familiarize the congregation with online-only giving.)
Bethel Church in Evansville, IN has additional guidelines, including:
Turn off your engine.
Crack your windows for fresh air. (Bring blankets to stay cozy.)
Use the bathroom before you come. (The church building will be closed.)
Bring a smart device and headphones for your kids. (Kids programming available through the Bethel app.)
Wave to your neighbors through your windows and enjoy gathering, but please, for compliance, do not leave your car.
If you need to leave urgently you will be able to pull out during the service. Otherwise, please wait for the parking attendant to dismiss your row.
Result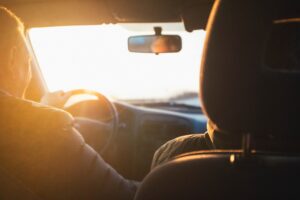 Rev. Lamb says, "I have received quite a bit of feedback from those who have attended. They are so thankful for the opportunity to see each other and to worship together. There is a sense of connectedness that you just can't get from watching a worship service on TV or over the internet."
Details
Elevate your speaking platform so it can be easily seen. Some churches have even used scissor-lifts.
FM Transmitters can legally broadcast up to 150 or 200 ft without an FCC license. Prices range from $50 to $150. Amazon may not be the place to buy right now, due to shipping delays. A place like https://www.planetdj.com/  may be a better option. This how-to video recommends the Rolls HR70 Digital FM Transmitter.
UPDATE: FM Transmitters are hard to find, but reports are that Retekess is taking orders and delivering quickly from China.
You'll want to do a number of test runs last week before the Sunday morning to optimize your transmitting distance and get the audio mix right.
You may want to place the transmitter in the middle of the parking lot to maximize coverage.
Use wind screens on your microphones to minimize wind noise.
This will work with a very basic audio setup. Rev. Lamb says, "We ran my diva mic and an iPhone for music through one of my husband's amps (it worked as a mixing board."
See how Bethel Church in Evansville, IN is handling Drive-In Church services under Indiana's "Stay at Home" order:
Special thanks to Jason Moore for starting this conversation on Facebook.
For more on Drive-In churches see these articles:
https://www.christianitytoday.com/news/2020/march/drive-in-church-covid19-coronavirus-fm-transmitter-schuller.html
https://time.com/5811387/drive-in-church-coronavirus/
Contribute your Creative Church Arts Ideas and projects HERE.
CreativeChurchArtsIdeas.org is the official blog of New Renaissance Arts Movement, a non-profit organization through ACT Intl.
If you find this website helpful please consider donating to our ongoing efforts of promoting and resourcing creativity and arts ministry in the local church.