Personal Prayer Art Ministry (PPA) is a powerful from of prayer ministry that uses spontaneous art (drawings) as a
vehicle to convey God's love to individuals.
PPA is typically done one-on-one in person, but it also translates remotely well over Facebook Messenger, Facetime, Zoom or other means.
This post describes how to how to make that transition to digital.
First, read the post on how Personal Prayer Art Ministry is usually done HERE, then return here for directions for doing it online.
If you are doing PPA as part of your post-service prayer ministry you'll want to set scheduled time slots of 5 -10 mins each, then inform church staff that the ministry will be offered on Sunday and that those who wish to receive it should send to a designated email address. A PPA practitioner will schedule a time to meet with that person over their preferred digital platform. From there, the process is the same as PPA done in person, without actual touch. At the end of ministry the practitioner will scan and email the picture or send the receiver a digital image of it to keep.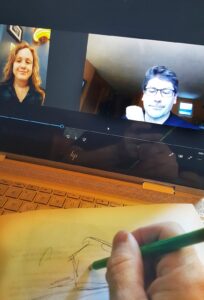 When doing PPA outside of typical post-service ministry time you might invite people to meet with you online and receive whenever you are available. Or you can even do the ministry without connecting with them live, and just send them what the Lord gives your to draw.
Remember, this can be an intense ministry, like any form of prayer ministry, and should be done with the support and prayers of others on your ministry team or praying friends. Practitioners should limit the number of people they do PPA for in a sitting, to avoid burnout.
Personal Prayer Art Ministry is an excellent way to minister remotely to people in your congregation and beyond during this current crisis. It conveys caring through being present and creates connection. PPA enables God's messages of love to be communicated in a personal way, and gives the receiver a picture to keep and meditate on.
For more information or guidance on Personal Prayer Art Ministry, contact Scott (at) TheNewR.org.
Contribute your Creative Church Arts Ideas and projects HERE.
CreativeChurchArtsIdeas.org is the official blog of New Renaissance Arts Movement, a non-profit organization through ACT Intl.
If you find this website helpful please consider donating to our ongoing efforts of promoting and resourcing creativity and arts ministry in the local church.